There are so many details to consider when you're getting ready to host friends and family for Thanksgiving: What Thanksgiving side dishes should you make? How are you going to choose your Thanksgiving table décor? Who's bringing the pumpkin pie? And—perhaps most important of all—what wines will you serve during the meal?
Picking the best Thanksgiving wines can be tricky for a number of reasons. Not only are there hundreds of bottles to choose from, but sometimes it seems everyone at the table has different preferences—red, white, or rosé? Flat or sparkling? When you start trying to balance those preferences with choosing wines that will go well with your Thanksgiving menu, things can get really confusing.
Not to fret! At Richter Cork and Keg, we've done all the heavy tasting for you, and have the perfect Thanksgiving pairing for you. 
Beaujolais-Villages Combe Aux Jacques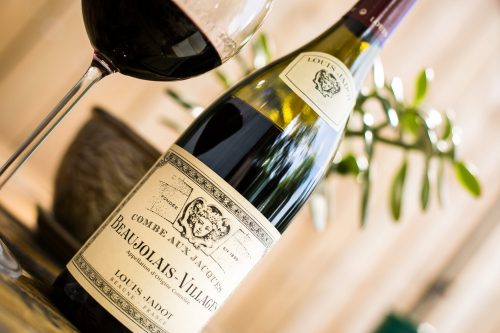 I'm sure when I say Beaujolais, you might think of Beaujolais Nouveau… The overly fruity wine that comes out every Thanksgiving. You know, the one Aunt Karen brings to Thanksgiving dinner each year because… tradition.
It's time we have a talk about the "real" Beaujolais and forging those traditions into this century! Clearly, we love ringing in the seasons as much as anybody—but just like parachute pants, perhaps we should leave Beaujolais Nouveau in the 1980's time capsule where it belongs.
The aforementioned Beaujolais (Nouveau) is a light, red wine where the annual release coincides with the fall harvest. The drawback is most Beaujolais Nouveau wines are cheaply made and not very good. A much better choice would be to choose a real Beaujolais, in this case, a step up to Beaujolais-Village Combre Aux Jacques.
To pair with your Thanksgiving meal, Louis Jadot is definitely one of the better wines that fit the occasion. This crisp, fruit-forward, juicy wine has expressive aromas and flavors of ripe red berries, with nice weight in the mouth. It pairs well with light red meats and grilled or roasted white meats. If you prefer, you can even serve this wine with a bit of a chill.
Thanksgiving is about celebrating our blessings. So this Thanksgiving, raise your glass of Beaujolais-Village Combre Aux Jacques only found at Richter Cork and Keg. 
And don't forget, purchasing retail bottles of wine earns you a 20% off discount when you shop at Richter Cork and Keg. 
Our personal wine consultation service is just one of the ways in which Richter Cork and Keg has distinguished itself in the market as a luxury wine retailer. Learn how we can help you find your perfect pour!
Vineyards situation: Made with 100% Gamay grapes, our « cuvée » comes  mainly comes from the Rhône and Saône-et-Loire region (Lantigné, Lancié and Régnié) : the very best location for Beaujolais Villages.
Characteristics: The terroir is composed of granite as well as clay and calcareous. Among the 55.000 acres (22.000 hectares) of vineyards planted in the Beaujolais region, about 15.000 acres (6.000 hectares) are under the name Beaujolais Villages « Appellation d'Origine Contrôlée » which is the intermediary appellation between the Beaujolais and the 10 Crus.
Wine making: The Beaujolais Villages "Combe aux Jacques" is vinified the same as the other wines from the region: with a semi-carbonic maceration. Our Beaujolais Villages yield comes from three sources. One portion of our wine comes from the Régnié cru, another portion we purchase from quality winemaker, and the last is a portion we purchase grapes for and we vinify them ourselves in our winery in the south of Beaujolais. Louis Jadot is the only negociant buying grapes and vinifiying them independently.
Winemaker's comments / Gastronomy: The long maceration will allow a good extraction. The wine will have a good structure and will therefore be able to age several years. This Beaujolais Villages "Combe aux Jacques" must be drunk quite cool in order to protect the delicious aromas of fruit and the delicate freshness that characterize this wine. Ideal with delicatessen and Italian foods.